It's been for some time now that I wanted to build a big model. There are many candidates -too many- but I finally fell for the most beautifully colored plane in the skies, the Bombardier 415 water bomber.
This is not the first model that I will be building, I have some history with rc-soaring builds and even some rc-design work. So the build itself does not scare me. Big motorized planes however, that is new to me. So for a first model it should be big, but not crazy so. I can always add a bigger one later…
The perfect size I envisioned would be something about 2-3 meters (78-120 inches) in span. But now that I have seen the plans for a 2 meter version, right… that's big enough for the first one. But I am getting ahead of my selves already. First things first.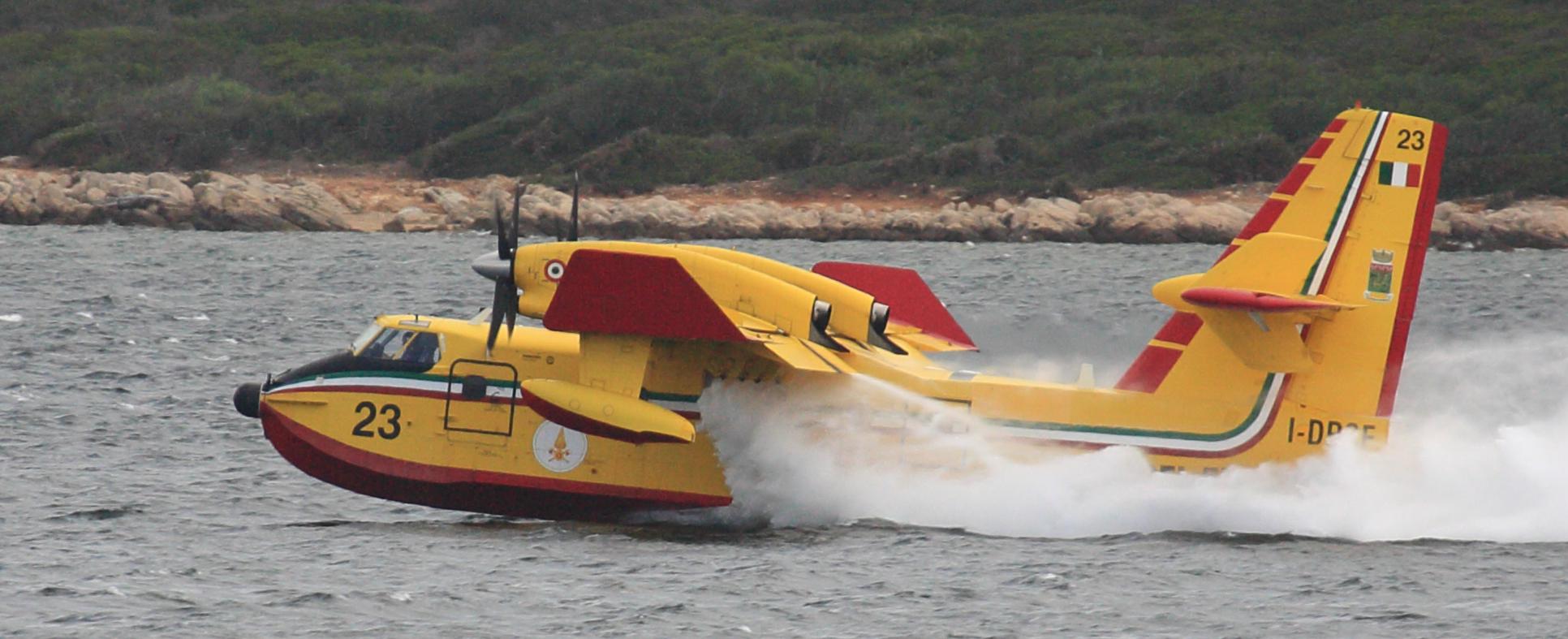 The real thing: In the picture you can see that the scoop must be close to an end, the water is already coming out of the overflow exit
Once the decision for the CL-415 was made, the next step was to gather the necessary information. A plan would be nice…
Sure enough there are a few plans out there, but the smaller ones didn't interest me and in the bigger sizes I only found an 80 inch and a 120 inch at Martin Rousseau Aerodesign. The plans are pricy, but probably worth their money. However shipping costs to the Netherlands is killing. So I looked further.
After a few more days I found a plan at aerofred.com by user "eugnioca". A 76 inch free download - for registered users. So registering I did. The plans made a good impression, and after asking in our local rc-club somebody volunteered to print them out for me.
The images above link to a slightly bigger one, but for the full resolution plans please go to aerofred.com. If the website no longer exists, contact me and I'll see what I can do.
My first impression of the plans is that these are good to go. Its an all-wood plan. No form parts needed. Which is an advantage over the plans from MR Aerodesign which do need some formed parts. But the plans are 'bare'. I.e. there is no supporting information and no build report. I do wonder if the plane was ever build… Oh, and the plans are in French and do use the metric system. I do not speak French, but I guess that a good dictionary will help where needed.
Other resources
Of course when building a scale plane, more detail is needed. I found another website where a cutaway drawing can be found and many(!) pictures (walk-arounds): seawings.
Then there is a build log of a 72" CL-415 at mike Roach's model aircraft
On that site there is a reference to Ivan Pettigrew's site that has some interesting information about flying boats, a must read for beginners in this sport. He also has some info on multi-engine planes which might be useful as well.
And finally, I found one book on the CL-415, but have not bought that (yet). I am not sure it is necessary. You can take a look at editions-minimonde.
Next
The next few weeks I will be studying the plans, and building the workbench. I am pretty much set on building the main wing in 1 piece. Which will necessitate a new workbench. To be on the safe side, it should be 2m20 (86") long. And flat!. My current working bench does not get there.